Upcoming Events
Stone Shoals is an active, engaging, and family-friendly neighborhood! Check out the events below and learn what's happening in our community and the surrounding area.
BBQ is postponed because of expected bad weather.
We will let everyone know the new date once it's planned. 🙂
Third Annual BBQ on the Green Space!
Everyone is invited! Please come!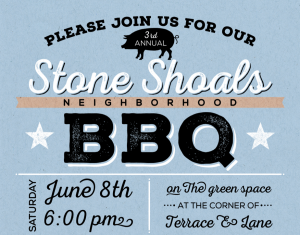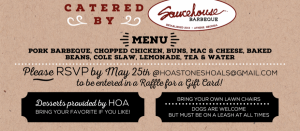 February Watkinsville City Council Meeting!
On the third Wednesday of every month is the Watkinsville City Council meeting. Please attend if you are interested in learning more about your city. The next meeting is February 21st, and the meeting is held at 191 VFW Drive.
Bon Fire!!
Friday November 16th – Come one, come all!
Bring your chair and blankets, your smores, and your children, and enjoy a cozy bon fire out in the green space with your neighbors. The time will be announced soon!
Summer BBQ!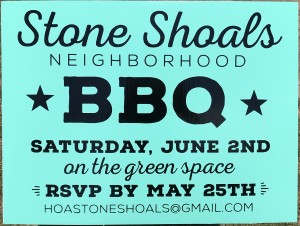 An HOA newsletter (or "dues" letter) is coming!
Feb 11, 2018
Hello there residents!
There will be a letter arriving at your door soon. The HOA has organized and are preparing to get the word out! We want to reach you and hear from you.
1.  A copy of your HOA covenant. This way, we are all on the same page!
2.  An invoice for paying HOA dues.  If you are behind, we will work with you!
3.  An invite to participate in the terrific activities we have planned in order to make our neighborhood more friendly, cooperative, and fun.
The letters will be sent out sometime in late February, so you should receive one well before March 1, 2018.
If you have any questions, just let us know. Respond to the "Contact us" with a message. You can also write to us at P.O. Box 652 Watkinsville, GA  30677.
More information will come as we get ourselves together.
Thanks!
The Stone Shoals HOA Team